Finisterre, Galicia: The End Of The World.
Once upon a time… there was a girl who always liked to start telling stories beginning from the end. I visited Finisterre at the end of my walking journey throughout Portugal and north-west Spain, starting from Lisbona the 21th of July and arriving in Santiago 25 days later, following the so-called Caminho Português. Definitely one of the most difficult, nature-conn ected, enriching, mystical and magic experiences I've done so far. I will always remember the two days of total relax I spent in Finisterre as an amazingly regenerating and peaceful experience, which is exactly what you need after you've walked for 619 km and you realize how terrible your feet look like and that now you've got disgusting bloated football player calves.
How to reach Finisterre:
Most of the pilgrims reaching Santiago de Compostela from one of the many Caminos (yes: the well-known french way is not the only possible camino, have a look 
here
), d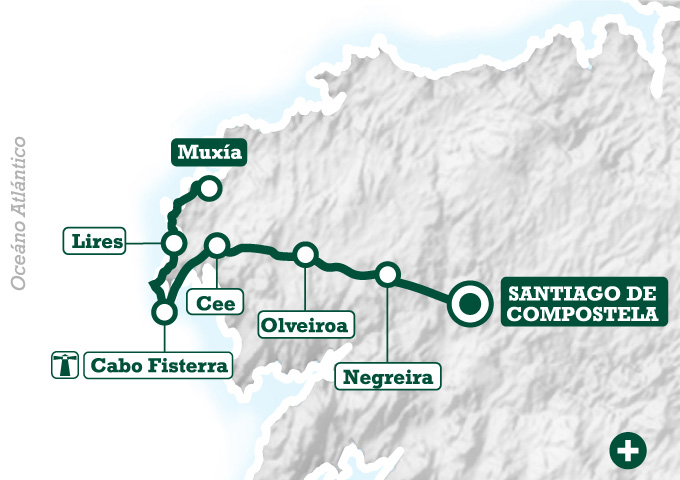 ecide to continue the Camino until the peninsula of Cape-Finisterre (galician: 
Cabo-Fisterra
), walking for about 70 kilometers more or simply taking one of the several busses from Santiago Bus Station (timetables 
here
, average cost: 14 euros) to the port of Finisterre. Adding another journey-day, you can also visit Muxía, the other locality shown on the map here on the left. There would be eventually space for another post about it.
Three words describing Finisterre:
1. Mysticism
: considered in the ancient times as the End of The World ( Finisterre comes from latin's Finis Terrae, literally meaning Land's End), overlooking the cold waters of the Atlantic Sea, watching the far terrifying "Who-knows-what's-after-that" (just before they discovered that "America!" was the answer), Finisterre was considere
d as a legendary place, where pagan tributes met catholic beliefs, as for instance, Finisterre was said to be one of the place where St.James' disciples stopped by during their journey to Santiago carrying their magister's remains. 2. 
Peace
: the peaceful village of Finisterre is all built around the harbor, the fishing port is actually very well known throughout Spain. «Well, I could give you a map of Finisterre but, don't worry 
chicas
, Finisterre is really small and their little streets are labyrinthic so getting lost 
is the point
.» . That's what the owner of the hostel told us as soon as we got there. Galician people here don't like to rush at all, so go around, discover new places, sit in a bar frequented by local people and old sea-dogs, join some hippy group playing music at the beach during the evening, enjoy the flow of life and eventually carry your favorite book, walk till you find your little "cliff with a view", meditate, chill, chill, chill.
3. 
Rituality
: Three are the most important rituals for any pilgrim (or traveller) coming in Finisterre. First, as soon as you get to the amazing "Playa Langosteira", you gotta have a 
cold
 (not just cold: FREEZING) 
purifying bath in the Atlantic Ocean
 and then have fun 
collecting the beautiful shells
, gifts from the ebb tide, which every pilgrim collects as proof of the just accomplished mission.
Secondly, another amazing ritual experience, consists in walking westwards to the lighthouse around 9 pm. For this purpose, you should climb the
Monte Facho
but don't worry, it's not difficult to find the way to get there because you will notice many travelers leaving the village around dinner time and you just have to follow them for about three-four kilometers. As soon as you arrive, you will have to fight for the best cliff where to sit: my suggestion is to go straight ahead to the little cocktail bar situated after the souvenirs-shop, ask for something to drink (I bought a 
tinto de verano
 – to go) and from the bar's private space, go up to the cliffs you'll find just next, then holding your 
tinto de verano
 in one hand and eventually your photo camera in the other, singing some hippies song together with the old&young happy hippies who normally carry their guitar with them to the mountain: then, get prepared to see
 the most beautiful sunset you've ever seen in your entire life
. The sun plun
ging into the Atlantic Ocean, the limitless horizon, the World's End. You will feel the shivers down your spine, you will hold your breath until the sun finally disappear below the horizon and right away you will hear a thunderous applause coming from every single cliff around you. Oh yes, I know it's weird but people there like clapping for the sun to have set once again, like: "…and even today, you've done it, mate! Good Job!". Despite jokes, I do think this is matter of gratitude to the sun, the moon and all the Universe, expressing gratitude for what we have is always a good thing to do. The third ritual for pilgrims and travelers reaching the lighthouse of Finisterre consists in going scavenging for wood, 
making a bonfire
 and burn the clothes they wore during the Camino. Well, this is not legal (there are signs forbidding it) so I'm not promoting it but it's just for you to know… ;).
Sleeping&Eating suggestions:
Me and my friend Anna slept in a 6-bed shared dorm in the 
Albergue Arasolis
, an hostel with a really good price (10-15 euros/night), clean, nice staff and, most of all, an amazing location. It's literally 40 steps far from a little cute 
playa. 
You can have a look at the 
playa 
in these pictures here above:
You won't have any problem to find good places where to eat in Finisterre, as long as you choose to eat fish. I recommend 
"Mesón 
Xacobeo"
, which is a not-expensive restaurant just above Playa de Langosteira. The fish was delicious, here below two photos I took. I also found a picture online of the 10 Euros Menu in English. (N.B. don't ever order the 
flan de huevo 
as a dessert, normally I like it but their flan tasted just like egg white with no flavor, BLETCH).
For breakfast or brunch, I'll suggest you 
Café Bar la Frontera
, run by a german woman married to a local man: it's basically german and vegetarian continental kitchen meeting galician one. The coffee was tasty as well! What I also liked a lot about this place was the little shop inside the cafeteria, selling hippy-style beautiful clothes, bags and hand-made jewellery. Well, after 25 days I always wore the same two t-shirts, I couldn't resist and bought this dress below and have no regrets about it (the photo on the left wasn't shot in Finisterre but in 
Muxía
 the following day).
Hope you enjoyed my first article, I'm looking forward to writing my next one.
Have a nice journey! ¡Buen Viaje!