Top 1 hostels in Himachal Pradesh, India.
These are the 1 most awesome hostels and budget places to stay in Himachal Pradesh, India.
1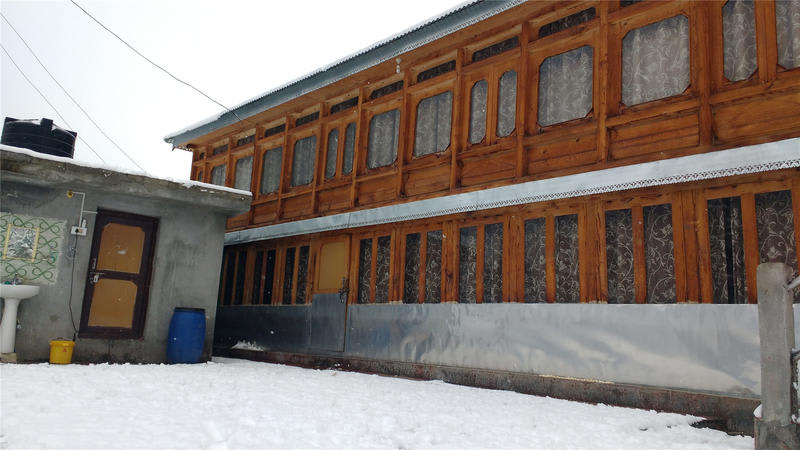 Bhandari Homestay
We are a humble apple farmer family. Our house is situated in the apple orchard where we harvest the best apples of himachal. come experience the fresh mountain air and the beautiful scenery of the Sangla valley, the place we call home. Come be a part of our culture. (About Sangla Valley) Sangla...
Bhandari Homestay is a guesthouse in Himachal Pradesh. Check Hostelworld for prices.
Things to see and do while backpacking in Himachal Pradesh, India.
Check out tips from other travellers and bloggers and their experiences in Himachal Pradesh, India.
If you're already planning to visit Himachal Pradesh, India - scroll to the next section for a list of the best places to stay.
Don't expect a luxury holiday
However, if you avoid cities and main roads you can still find some lovely areas, like the rocky landscape of Hampi or the tea plantations in the Western Ghats.  I haven't been up to Himachal Pradesh or Kashmir but apparently, it's good for cycling if you don't mind hills.  While the touristy areas between Mumbai and Delhi, (Udaipur, Pushkar, Jaipur, Agra), may be appealing to visit, these and the roads connecting them are heavily populated and best avoided for cycling.
Mark Hartley
Khajjiar – The Mini Switzerland Of India 
We all know about Switzerland but have you ever heard of mini Switzerland that too in India? It is in a very remote area of Himachal Pradesh and just like it's name it is very small.  Khajjiar or Mini Switzerland is atypical combination of three ecosystem: forest, pasture and lake. Apart from a few shops,places of accommodation there is nothing but the serene beauty of the Dauladhar Mountains of the Himalayan Range and dense forest of Pine & Deodar trees. It is a perfect place for getting away from the tiring hustle and bustle of the city life.
anwesha
Himachal Pradesh: Travelling like a local (Day1)
As the sun was still high and mighty in New Delhi's October sky last year, I decided to take a short trip to Himachal Pradesh.I have been to Himachal innumerable times but never explored the place much. This trip changed that and made me realise how much remains unseen and unexplored in the state I call my birthplace.
neha-thakur
A perfect weekend in Mcleodganj, Himachal Pradesh, India
There's this place called Mcleodganj in Kangra district of Himachal Pradesh, India. It is very popular among those who love trekking. I had a chance to visit this amazing hill station with my friends this summer. Unfortunately, we could stay there for only three days. We rent a traveler bus from Delhi and it took 10 hours, 3 states and a few power naps to get there. You can also go there by air or by train. The nearest airport is Gaggal airport in Dharamsala and the nearest train station is Kandrori. But if you are going with a group of friends, a road trip is the best.
Gargi Sharma
Mcleodganj: Transforming tourists into travellers
Situated in Kangra district of Himachal Pradesh just about 15 km from Dharamshala at the height of 2082 metres (6831 feet), Mcleodganj is undoubtedly one of the best hill stations in India. Owing to the large population of Tibetans, Mcleodganj is also known as "Little Lhasa". The most prominent and exceptional feature of Mcleodganj that you wouldn't find in any other Indian hill station is the cleanliness despite being popular amongst tourists and pretty densely populated. Having Kangra Airport at about an hour's distance that provides the town with air connectivity to only Delhi and Chandigarh (March 2018 onwards) and the Pathankot Railway Station as the nearest broad gauge railway station which is about two and a half hour from Mcleodganj makes the roadway the best means of conveyance. No matter where you are coming from, the bus journey remains the most convenient option as it saves time, effort, money and possible nausea. Both State transport buses and private luxury buses regularly run between Mcleodganj and other major Indian cities like Delhi, Chandigarh, Manali, Karnal, Ambala etc. However, if you don't have an itinerary to stick to and are looking forward to getting off the trail and making your trip more about the journey than the destination, then take a car.
Devashish Mathur
India: Little Tibet in the Lanes of New Delhi
The Tibetan refugee colony had started to build in this area of Delhi around the 1900s but most people left Tibet and sought asylum in India after the Dalai Lama went into exile to Dharamshala in Himachal Pradesh during the period of the 1962 Sino-Indian War. Till this date, this refugee colony remains unauthorized. Also known as Samyeling, Majnu ka Tilla presently accommodates second generation Tibetan refugees.
Avantika Chaturvedi
Himachal Pradesh, India Travel Guides
Leave a Comment...
Have you visited Himachal Pradesh, India and have something to add to our Best Hostels listing?
Fill in the form below to leave a comment or ask a question about Himachal Pradesh, India...