One day in Ljubljana - the city of dragon
January 1, 1970
by Mateusz Wiza
It was the Green Capital of the European Union in 2016 and although Ljubljana is not on a bucket list of average traveler, much more people describes it as a great holiday destination, which is safe and environmental friendly at the same time. Let's find out what we can see in the biggest city of Slovenia, the country, where US first lady, Melania Trump comes from.
1. Ljubljana Castle
I begin my one-day trip in Ljubljana from its most remarkable building – the castle. First fortresses were built in this place probably already in the 11th century, then not only ages, but also countries were varying in this area. Finally, the renovation works started in 1960 and lasted more than 30 years. Now, the Ljubljana Castle is a host for many different events and a great touristic attraction.
There is an elevator, which can bring you straight to the castle and the return ticket costs just 4€ (5.50 AUD). However, I chose to walk all the way up, which lasted some 15 minutes and delivered not only the activity on a fresh air, but great views on this green city. When I arrived to the top, at first I drank a quick coffee at the courtyard. Straight after that, I decided to buy a castle ticket, allowing me to do nearly everything there and costing just 10€ (14 AUD). For this price I visited wonderful National Geography photo exhibition and a museum of Slovene honey.
On the last activity I left climbing on the castle tower. Well, I didn't count the steps, but there must have been a lot of them. Anyway, the view from the top turned out to be valuable after the long clambering. Not only the city, but also absolutely beautiful Julian Alps were now in the field of my vision. As Slovenia is not a big country, according to the audio-guide, from this tower one third of its territory can be visible!
2. The Old Town
Then I returned to the ground. At the feet of the castle spreads a beautiful old town. Firstly, I went on so Zmajski Most, what means the Dragon Bridge. Here I must mention that dragon is a symbol of Ljubljana and this creature is present everywhere here – from the city arms, till the souvenirs shops.
The most significant part of it is a Prešernov Trg, which means the Prešeren Square (France Prešeren was the greatest Slovene writer). From this place I can see a charming facade of Franciscan Church of the Annunciation from the 17th century, while on the other side is so called Tromostovje, what literally means "Triple Bridge". There really are three bridges over the Ljubljanica river, which are considered as a symbolic border between Balkans and the western Europe.
3. Food and restaurants
The Slovene traditional cuisine is not very rich in many dishes, however it's good to taste a Kranjska Klobasa (a sausage from the city of Kranj), while being here. However, during only one day visit, I highly recommend you to check some typical Balkan restaurant in the nearby. Everyone here knows, where the Sarajevo '84 is, so you can even ask on the street for directions. When you're already there, try out traditional meat specialties, like Čevapčiči, or Pleskavica.
4. Museum Of Illusions
After the dinner, you can either still walk around the old town, or try out one of the newest museums in the city. In Ljublajana Museum of Illusions you can test you senses and find out, that human brain is not always sincere with us… The ticket for one adult costs only 8€ (11 AUD) and is really worth its value.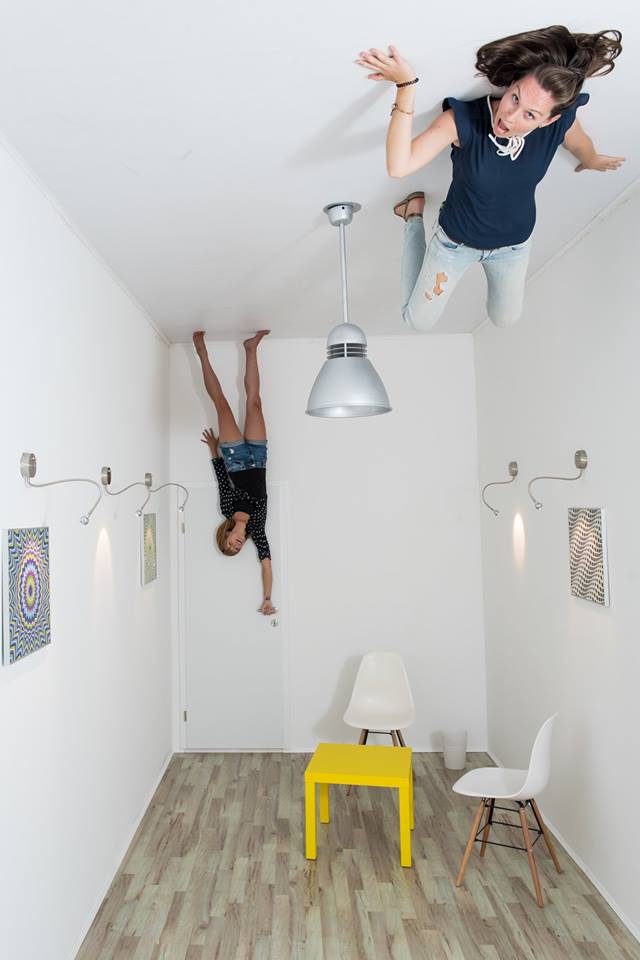 5. Sleeping and the night life
If you're looking for some very interesting place to spend a night, Celica Hostel is something for you. This venue is located in a building, that used to be… a prison. Exactly, now the hostels rooms look like they are the prison cells. Obviously there are no guards or locking anyone, but it's still a nice idea to spend a night. The rooms prices per one night are between 20 and 30€ (28 – 41.50 AUD)
By the way, just few meters away from the hostel is street called Metelkova, which is being described as a capital of an alternative culture. So, if you're looking some night clubs with nice music and great atmosphere – there it is and waits for you, not far from the Ljubljana main train station.
My one day in Ljubljana finishes, but I decided to stay in the same hostel for a longer time. The dragon city is located nearly exactly at the center of Slovenia, which, as I mentioned is not very big, so it's a great idea to stay here for nights and during the day to explore other parts of the country, especially that most of it is not longer than 1,5 hour driving time away.
Now is your turn – come to visit Ljubljana and find out, what is the best for you in this charming, Slovene city.
By Mateusz Wiza
My name is Mateusz Wiza. I was born in Poland, but now I live in Slovenia. I'm a webmaster and a freelancer journalist. I'm passionate traveler. In my journalist work, I write a lot about the aviation. I am the founder of the Air Stories Worldwide Project, where I write about most uncommon and unbelievable situations, which happened once in the sky. As an experienced webmaster and computer scientist, I write also about the technology, creating useful guides and reviews concerning mobile devices and most interesting gadgets. Finally, as a result of my traveling passion, I love writing about places I visited and describing most charming venues there. I create travel guides to encourage my readers to travel to my favorite places and not get lost. I understand that often there is not enough time, so I rank attractions, so it's easy to plan even the shortest trip.
Read more at mateuszwiza.com