Top 3 hostels in Waitomo, New Zealand.
These are the 3 most awesome hostels and budget places to stay in Waitomo, New Zealand.
1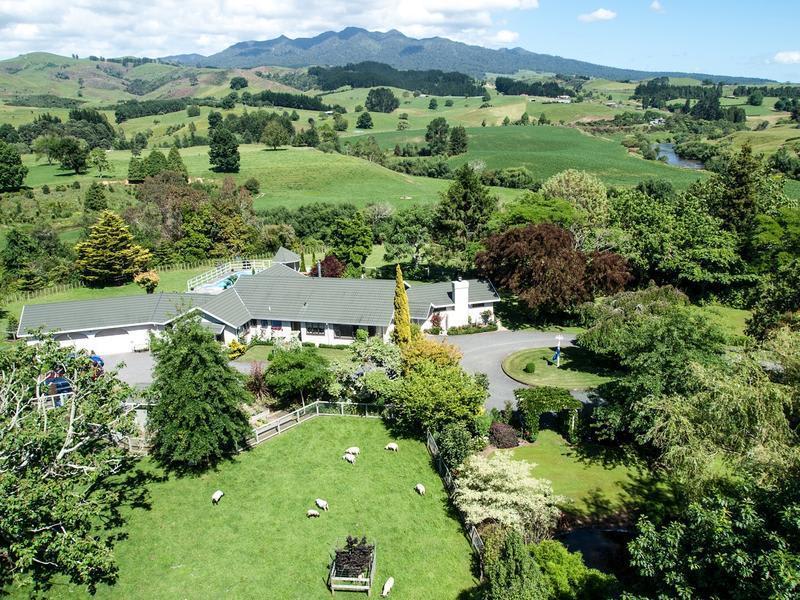 Somersal B&B
Somersal has available four queen bedrooms (sleeps up to 10) with views out onto the garden or towards the mountain. The Master Queen & Deluxe Queen bedrooms have en suites, while the other two Queen bedrooms share a bathroom with separate shower and toilet. In the morning you'll wake to your...
Somersal B&B is a guesthouse in Waitomo. Check Hostelworld for prices.
2
Junohall YHA Hostel Waitomo
Nestled within rolling hills and private farmland, Juno Hall provides a countryside feeling while still being located within 2kms of the Waitomo Glow Worm Caves. The Legendary Black Water Rafting Company and Waitomo Adventures are within two minutes walk from our hostel. Waitomo Village is 1.5km, or...
Junohall YHA Hostel Waitomo is a hostel in Waitomo. Check Hostelworld for prices.
3
Kiwipaka Waitomo
Kiwipaka is a unique and relaxed rural New Zealand getaway. Nestled in mature trees with large sunny decks over look awe-inspiring scenery. Only a short 5 minute walk from our hostel are the famous Glow-Worm Caves or to The Tomo Bar & Eatery. Waitomo is beautiful and mysterious both above and belo...
Kiwipaka Waitomo is a hostel in Waitomo. Check Hostelworld for prices.
Things to see and do while backpacking in Waitomo, New Zealand.
Check out tips from other travellers and bloggers and their experiences in Waitomo, New Zealand.
If you're already planning to visit Waitomo, New Zealand - scroll to the next section for a list of the best places to stay.
2. Hobbiton Movie Set Tour
Marie Vanderwoodsen
The Trip
Me and my friend Sonia left for the North Island during the middle of July. It does not sound as the best time to travel around as it's middle winter, but this country turns up to be a year-round travel destination. It was cold, indeed, so be sure you remember to bring warm clothes when you head there, but it was definitely not unbearable. We spent the first week travelling around Auckland, reaching down to Mount Ngauruhoe, close to Lake Taupo, the most southern point we managed to get during our quick trip to the North Island. We went like in a circle, passing from the Coromandel Peninsula, down to Tauranga, Rotorua and Taupo, and then going back up passing from Waitomo District, Hamilton and Piha, just outside Auckland. Needless to say that one week is not enough, but we had no choice and flew down to Christchurch, where we picked up our rented car and did another two weeks of travelling all around the South Island. In this case we tried not to miss any single worth stop. But the weather was not on our side and unfortunately we couldn't really enjoy every stop. Anyway, we did an anti-clockwise trip, starting from Christchurch, heading up to Kaikoura and Blenheim, passing by Queen Charlotte Sound (Totaranui) and stopping at Nelson for two days to enjoy the Abel National Park at its best. Then we turned south to Greymouth and to Franz Josef and Fox Glaciers, right before arriving in Wanaka. After this, we spent a couple of days in Queenstown, where you find tourists at any time of the year as it offers any kind of entertainment, from exciting activities like the first Bungee Jumping or the Swing, to relaxing boat cruises and mountain walks. Winter is of course the best moment to go skiing or snowboarding, and there were hips of backpackers around, ready to get the best from the good snow. After leaving Queenstown we went down to Te Anau and cruised along Milford Sound, then we reached the most Southern Point of the entire Island (Slope Point) and went chasing penguins and albatross around Dunedin. On the way back to Christchurch we couldn't miss the night sky over Lake Tekapo and the snowy land of Mount Cook, we also drove through the astonishing Arthur's Pass and ended our trip at Hanmer Springs and at the Banks Peninsula, close to the airport. Words can't describe our entire experience. We've been staying in different hostels every night, crossing path with many other travellers on their way. Heard interesting stories from other people livings and shared rooms with men and women of any possible nationality. No other experience will ever equal the power of this trip and I will never forget all the challenges we also went through (the snow storm being one of those).
Vale
Spectacular glow worms for free!
Explore the Great Outdoors at McLaren Falls Park.  This is a huge park with natural features including serene lakes, powerful waterfalls, thousands of tree species and the magic of glow worms after dark.  Yes, glow worms!  These tiny creatures emit tiny pinpricks of light after dusk to attract tiny insects into their sticky fishing line webs.  Park maps are available at the entranceway visitors centre; you need to follow the waterfall track to see the glow worms.  The gates close for park entry before dusk so check times on the link below.  Automatic gates will let you out later though!  The quickest walking route to the main glow worm overhangs is to take the bridge first, you can follow the loop track if you want to kill time until it's really dark. Take a torch but minimise using it so allow your night vision to kick in.  These mossy overhangs in amongst native ferns are home to the most spectacular array of glow worms – in my opinion rivalling that of Waitomo Caves.
Vet Around The World
Arriving in Rotorua
Since we began our journey to Rotorua from Bay of Islands and had a pit stop at Waitomo Caves, we set off around 8 a.m. The drive to Waitomo took us through some of Northland's most picturesque farm regions and some quintessentially colonial towns such as Huntly. We arrived in Waitomo Glow-worm Caves for the 3 p.m. tour. After a quick lunch, we departed from the caves at 4:30 p.m., arriving in Sulfur City around 7 p.m. If you're driving down from Auckland, a non-stop journey by car will take around 3 hours.
Malavika Madgula
Waitomo, New Zealand Travel Guides
Leave a Comment...
Have you visited Waitomo, New Zealand and have something to add to our Best Hostels listing?
Fill in the form below to leave a comment or ask a question about Waitomo, New Zealand...