Top 2 hostels in Lake Tekapo, New Zealand.
These are the 2 most awesome hostels and budget places to stay in Lake Tekapo, New Zealand.
1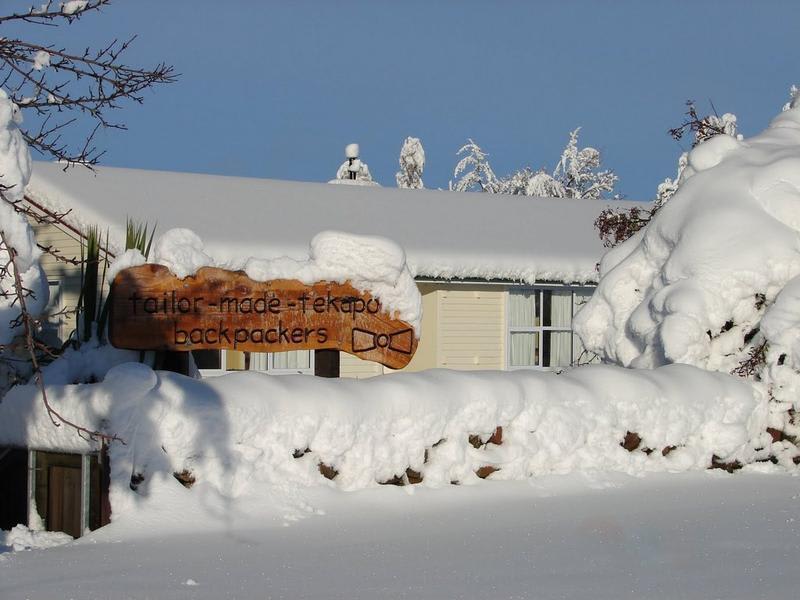 Tailor Made Tekapo Backpackers
We are a cosy, traditional New Zealand hostel where you can enjoy the warmth of our log burning fire in the evenings or lay back in the hammock and enjoy the of the sun. Our quiet gardens are home to our pet rabbits, gueina pigs, chickens and sheep. They are also a fantastic spot for star gazing aft...
Tailor Made Tekapo Backpackers is a hostel in Lake Tekapo. Check Hostelworld for prices.
2
LakeFront Backpackers Lodge
The Lake Tekapo Backpackers Lodge is built from wood and stone to blend into the landscape, and will comfortably sleep 86 with a variety of room sizes, as well as four & six bed dorms. Each Lake Front room has access to the deck, which has a large barbeque area and stunning lake views.Facing the lak...
LakeFront Backpackers Lodge is a hostel in Lake Tekapo. Check Hostelworld for prices.
Things to see and do while backpacking in Lake Tekapo, New Zealand.
Check out tips from other travellers and bloggers and their experiences in Lake Tekapo, New Zealand.
If you're already planning to visit Lake Tekapo, New Zealand - scroll to the next section for a list of the best places to stay.
The Trip
Me and my friend Sonia left for the North Island during the middle of July. It does not sound as the best time to travel around as it's middle winter, but this country turns up to be a year-round travel destination. It was cold, indeed, so be sure you remember to bring warm clothes when you head there, but it was definitely not unbearable. We spent the first week travelling around Auckland, reaching down to Mount Ngauruhoe, close to Lake Taupo, the most southern point we managed to get during our quick trip to the North Island. We went like in a circle, passing from the Coromandel Peninsula, down to Tauranga, Rotorua and Taupo, and then going back up passing from Waitomo District, Hamilton and Piha, just outside Auckland. Needless to say that one week is not enough, but we had no choice and flew down to Christchurch, where we picked up our rented car and did another two weeks of travelling all around the South Island. In this case we tried not to miss any single worth stop. But the weather was not on our side and unfortunately we couldn't really enjoy every stop. Anyway, we did an anti-clockwise trip, starting from Christchurch, heading up to Kaikoura and Blenheim, passing by Queen Charlotte Sound (Totaranui) and stopping at Nelson for two days to enjoy the Abel National Park at its best. Then we turned south to Greymouth and to Franz Josef and Fox Glaciers, right before arriving in Wanaka. After this, we spent a couple of days in Queenstown, where you find tourists at any time of the year as it offers any kind of entertainment, from exciting activities like the first Bungee Jumping or the Swing, to relaxing boat cruises and mountain walks. Winter is of course the best moment to go skiing or snowboarding, and there were hips of backpackers around, ready to get the best from the good snow. After leaving Queenstown we went down to Te Anau and cruised along Milford Sound, then we reached the most Southern Point of the entire Island (Slope Point) and went chasing penguins and albatross around Dunedin. On the way back to Christchurch we couldn't miss the night sky over Lake Tekapo and the snowy land of Mount Cook, we also drove through the astonishing Arthur's Pass and ended our trip at Hanmer Springs and at the Banks Peninsula, close to the airport. Words can't describe our entire experience. We've been staying in different hostels every night, crossing path with many other travellers on their way. Heard interesting stories from other people livings and shared rooms with men and women of any possible nationality. No other experience will ever equal the power of this trip and I will never forget all the challenges we also went through (the snow storm being one of those).
Vale
Lake Tekapo, New Zealand Travel Guides
Leave a Comment...
Have you visited Lake Tekapo, New Zealand and have something to add to our Best Hostels listing?
Fill in the form below to leave a comment or ask a question about Lake Tekapo, New Zealand...