Top 3 hostels in Mission Beach, Australia.
These are the 3 most awesome hostels and budget places to stay in Mission Beach, Australia.
1
Jackaroo Treehouse Mission Beach
Stay in a Treehouse in the Rainforest *Free Pick-Up & Shuttle Bus All Day *Unlimited WiFi in Common Areas & Rooms *Free Breakfast *Fully Licensed Jungle Bar *Fanned And Air Conditioned Rooms Available When you stay at the Jackaroo Treehouse in Mission Beach, it is an experience like no othe...
Jackaroo Treehouse Mission Beach is a hostel in Mission Beach. Check Hostelworld for prices.
2
Mission Beach Retreat
The only hostel in the centre of Mission Beach! 50 meters from Skydive Australia & 14km's of Mission Beach. Our well established tour desk and newly renovated beach hostel will tick all of your boxes! Wether you are looking for excitement and adventure or some much needed relaxation. Unlimited free...
Mission Beach Retreat is a hostel in Mission Beach. Check Hostelworld for prices.
3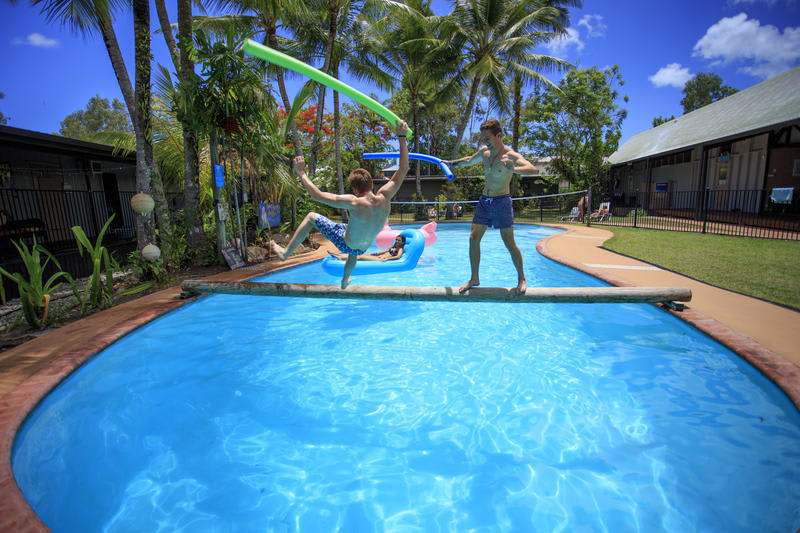 Scotty's Mission Beach YHA
Unlimited Free WIFI - Free Shuttle - Daily Activities - Closest to the Beach - Skydive/Rafting Pickup Point - Tour Desk - Best Deals - Free Accommodation with tour bookings - Central Location - Near Supermarket and amenities The all new Scotty's Mission Beach YHA Backpacker resort! Free Shuttle,...
Scotty's Mission Beach YHA is a hostel in Mission Beach. Check Hostelworld for prices.
Things to see and do while backpacking in Mission Beach, Australia.
Check out tips from other travellers and bloggers and their experiences in Mission Beach, Australia.
If you're already planning to visit Mission Beach, Australia - scroll to the next section for a list of the best places to stay.
Regional work in Tully, QLD.
After 4 weeks of waiting, my friend got me a job on the same farm, she hassled the farmer and he gave in. We worked outside (with spiders and the occasional snake) "deleafing" (trimming) banana plant leaves to ensure the bananas would grow but most girls work in the shed sorting/packing bananas. You will see snakes, spiders and other insects but you will become used to them! It can be extremely hard working in the heat but if you can get through it, you will feel extremely proud of yourself. We were lucky to have a boss who would want everyone to get 3 months done and leave. However, I had friends work for 2.5 months and be fired due to lack of fruit so you should give yourself plenty of time to do your regional work. The pay in Tully is $21 hourly which is a good rate and this is the reason why people wait. You can easily save money if you budget and don't spend all your money on booze, plus there are good spots to go on weekends such as Mission Beach and Murray Falls (my favourite)! I definitely recommend visiting Murray Falls it is a beautiful spot where you can take a picnic, swim and relax on the weekends. If you decide to do the Mission Beach skydive with Jump the Beach, I recommend paying extra for the video but not the pictures as most of the pictures are screenshots from the video and this will save you money. Other activities that I did not get around to doing include climbing Mount Tyson that is in the Tully Gorge National Park and water rafting in the Tully River. Climbing Mount Tyson should be done early in the morning especially in the Summer months and you have to notify the Post Office for safety reasons. Tully is well known for how good the water rafting is and should I end up anywhere near Tully again I will certainly be doing it. The company I have been recommend is Raging Thunder. If you have a bit more money to spend you can always go to Cairns for the weekend, Gilligan's is the best hostel to stay at it is a hybrid hostel/hotel with a pool and nightclub.
Aimee Beach
Cassowaries: Mission Beach & Etty Bay, approx. 2 hours from Cairns
  Cassowaries: Mission Beach & Etty Bay, approx. 2 hours from Cairns When making a turn onto El Arish Mission Beach Road from Bruce Highway, the cassowary caution-signs start to pop up at the side of the road. The giant dinosaur like bird lives in the rainforest in the Mission Beach area and is often spotted by drivers on their way to the cosy little beach town. According to many locals in the area, the campsite in Etty Bay – 48kms north of Mission Beach – is the absolute best place to see the bird. 2-3 cassowaries live in the area close to the campsite and they often come by for a visit. Some days you can even see them strolling along the beach just next to the campsite.
Sofie M. Wulff
The many things to do in Cairns includes:
Skydive!  I technically did my skydive on mission beach with a shuttle from cairns, but the view was similar to what it would be in cairns.  The scene is truly breath taking looking out over the great barrier reef and all the beauty of the sea is absolutely worth the terror you may be feeling at the prospect of jumping out a plane thousands of feet up in the sky!
Hollie
Planning An Australia East Coast Road Trip
The Whitsunday Islands and Cape Tribulation would be the base of my road trip itinerary. They were not too far apart, so in less than a week I could see both and get to visit Mission Beach in between. Here is a list of everything I booked beforehand:
Lolly McCafferty
Mission Beach, Australia Travel Guides
Leave a Comment...
Have you visited Mission Beach, Australia and have something to add to our Best Hostels listing?
Fill in the form below to leave a comment or ask a question about Mission Beach, Australia...