Top 3 hostels in Canberra, Australia.
These are the 3 most awesome hostels and budget places to stay in Canberra, Australia.
1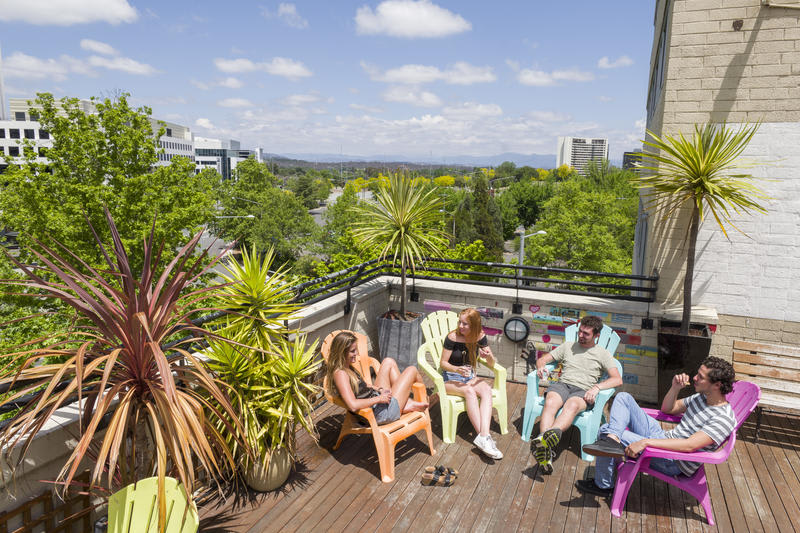 Canberra City YHA
Located in the city centre, Canberra City YHA is the perfect place to base yourself while you explore Australia's modern capital, even if you're just on a stopover between Sydney and Melbourne. No other destination in Australia combines heaps of free attractions with a lively local student pub and m...
Canberra City YHA is a hostel in Canberra. Check Hostelworld for prices.
2
Dickson Central
We are a boutique recently renovated hostel. Our rates are the best in Canberra and we offer a safe, clean and friendly experience for all our guests. Prepare a meal in our fully quipped kitchen (one of the best you will see) or eat at one of the many restaurants on the doorstep of the hotel. A s...
Dickson Central is a hostel in Canberra. Check Hostelworld for prices.
3
University of Canberra Village
University of Canberra Village offers a choice of self-catered residential halls and stylish new apartments (opened in 2009). The new apartments feature environmentally sustainable design initiatives such as grey water recycling, solar powered hot water tanks and a wildlife corridor for native anima...
University of Canberra Village is a apartment in Canberra. Check Hostelworld for prices.
Things to see and do while backpacking in Canberra, Australia.
Check out tips from other travellers and bloggers and their experiences in Canberra, Australia.
If you're already planning to visit Canberra, Australia - scroll to the next section for a list of the best places to stay.
Capitalising on Canberra
There are several clichés about Australia's capital city – that there's nothing to do, that it is entirely bushland or (as heard when talking to foreigners) that it is Sydney. As it turns out, none of these stereotypes are true. Introducing Canberra, Australia's hidden gem. While it has a lot of high end options, I'll be focussing on my area of expertise – the low end of the budget.
Bella
Canberra: Festivals 2016 part 1
I recently moved to Canberra, Australia 7 months ago, and besides museums and other things I have enjoyed, today I will like to share my experience in the diverse festivals here.
elizardesign
Run to the Hills - Camping in the Snowy Wilderness
About halfway through last year I decided I was getting very sick of year 12. Hardly to my amazement I soon discovered that many of my friends were also feeling this way, so I decided we needed to do something before we all went quite insane from being stuck in this system of white boards and walkways. We needed to remove ourselves as far as currently possible without crossing an ocean or exiting the Earth's atmosphere. Personally I wanted to go camping so I posed this idea to the group and after some discussion we had agreed that camping sounded like the go. But where? I talked long with one of my friends who's mother is an experienced ranger working in the parks around Canberra (Namadgi and Tidbinbilla). I was quite curious of the camping regulations in the area however after getting more information from her about the strict rules of this national park I decided we needed a place that was more lenient and accessible. Fortunately I knew some good places to go which were within our limits as students.
magdalene-shatrov
Marvellous Melbourne
I was there from the beginning of February until the middle of March 2016, the whole time staying at the Youth Hostel Australia (YHA) Melbourne Central (that I can highly recommend). I came to Melbourne via the Greyhound Bus from Canberra using a kilometre pass. The Wi-Fi didn't work, but that was not a big deal as there was quite the beautiful scenery to watch during the trip.
Felix Kiener
Canberra: The Bush Capital of Australia
Many people wrongly believe the capital city of Australia is Sydney. It's an understandable mistake. Sydney is often the landing point for international travellers coming to Australia, it draws in celebrities and is home to the iconic opera house. Canberra on the other hand, is a small city in a low-lying valley. It sounds rather bland compared the dazzling glamour of Sydney. So why is it worth a visit?
Alannah Alley Freeman
Canberra, Australia Travel Guides
Leave a Comment...
Have you visited Canberra, Australia and have something to add to our Best Hostels listing?
Fill in the form below to leave a comment or ask a question about Canberra, Australia...