Today I would like to transport you in the heart of the French culture. This magical place where I grew up is called Dordogne (or Périgord), the river gave its name to the province. It is divided into four areas called the Périgord Noir (Black), the Périgord Blanc (White), the Périgord Vert (Green) and the Périgord Pourpre (Purple), but we are going to focus on the Périgord Noir (Black). It's called this way because of the numerous dark oak trees present in this region.
I would like to list my top 10 activities to do in the summer, because let's be honest there's not much to do in winter 😉
 #1: Eat and Drink
I think we would all agree, the first and best thing to do in Dordogne is to eat! Eat duck and drink wine! Our region is famous around the globe for its food, we specialize in duck and goose products. Our star dish is the foie gras, which you can eat with onion or/and fig jam. It's the perfect way to start your Périgourdin dinner. We also have the confit de canard (duck confit), traditionally it's the leg of the duck served with potatoes cooked in its fat. For me the best part is the magret (duck fillet), also served with potatoes.
My personal advise : start your day in one of the the 'Most Beautiful Villages of France', then enjoy a delicious lunch in a nice restaurant by the river, finish your day in one of the beautiful castles we have around.
#2 : A lovely day in Sarlat la Caneda
Sarlat la Caneda is a medieval city constructed around an abbey. I personally love to go there during the hot summer nights and have a walk around the city. You will find yourself plunged into a maze of narrow streets, you never know what to expect. Whether it's a nice water fountain, a beautiful garden or a succulent restaurant, you will always be amazed. If you are lucky enough, you might just be there during the film festival!
My personal advise : enjoy the market of Sarlat la Caneda on a Saturday morning and spend the afternoon chilling in the streets and discover the artistic wonders of Sarlat.
#3 : Around Sarlat…What else?
So, if you are in the area for a few days, or weeks even, there are so many beautiful villages to visit. In this section I want to talk about La Roque Gageac. It's an impressive village with its…500 inhabitants (2013)! La Roque is one of the 'most beautiful villages of France', it's constructed along a cliff right next to the Dordogne river. It's a perfect location to enjoy a day in the sun. It's so well located that they have a microclimate at the top with an exotic garden. You can have a walk in the middle of banana plants and bamboos. After that, you should visit the troglodyte fort. It's also the perfect place to start a kayak trip, but we will talk about it later.
My personal advice : enjoy the morning to take a cargo barges tour (see #9), have lunch on a sunny terrace along the river at La Belle Etoile restaurant, walk around the village in the afternoon and treat yourself with an ice-cream!
#4 : The Castles of Dordogne
If you come to Dordogne you are in the heart of the '5 castles valley' (actually there are many more, but let's focus on these ones). So, around Sarlat you have: Fenelon castle, Montfort castle, Castelnaud castle, Beynac castle and Fayrac castle. The most famous are Castelnaud and Beynac. Let's start by Castelnaud, a small village in the heart of the valley. It's actually the perfect castle for people travelling with children. They have several animations all year long, the catapult is very popular among the little ones! It's a castle entirely dedicated to the art of war, with a museum and several exhibits. For around €10 per adults and €5 per children, do not hesitate to spend an educational and yet fantastically fun day!
About 5 minutes by car from Castelnaud, you'll find the majestic castle of Beynac. Its visit is an amazing step in the past and throughout the Middle Ages History. You can have a guided tour in English to know more about it or wander through time's hallways on your own.
My personal advice: take the day to visit both of them if you really like castles, and have a picnic in Castelnaud near the river.
To know more about the others : Castles in Dordogne
#5 : The Dordogne Gardens
Now, a few lines for our nature lovers! Parks and gardens are everywhere in Dordogne. Whether you like French gardens built on a symmetrical axis with geometrical shapes; or the English gardens with their flowers, ponds and wide foliage, you'll find what you want. I'm going to talk about my favorite garden, and as usual, I'll give you a link to all the gardens you can find. Let's talk about Les Jardins d'Eau (Water Gardens) in Carsac. It's more of an exotic garden unique in France, it's not a huge garden, but it's remarkable. Take an enchanting walk through a bamboo forest, along a stream with a small waterfall. There are a lot of ponds with frogs and dragonflies, living and flying over lotus plants. Also wander through a unique aquatic maze with a 500 meter footbridge.
Adresse : Saint Rome, 24200 Carsac-Aillac *** Rates :adult €7 / Children €3.50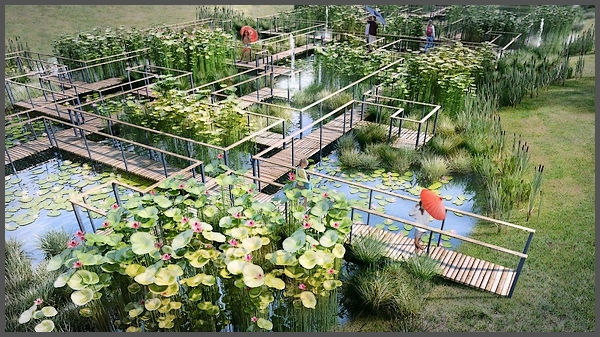 My personal advice : visit your favorite garden during morning and have a picnic for lunch and take a swim in the Dordogne river, the cleanest in France!
To know more : Gardens in Dordogne
#6 : Prehistory
If you have children, or maybe you're just a tiny bit curious about your origins, you have to go to Les Eyzies de Tayac. It's THE national capital of Prehistory. You can visit the museum or take the family to a park and have fun while learning.  Let's take Préhisto Park for instance, it was co-founded by a professor in anthropology of Paris. You can discover the life of the Neanderthal and try to make fire or shoot their weapons. You can really learn a lot and entertain the tiny humans 😉 Although, the most famous are the Lascaux Caves, but you must know it's only a reproduction of the caves to preserve the original. If you are interested, it's a must see in Montignac city.
My personal advice : choose a park of your liking and spend the day learning and having fun.
To know more about caves and parks :  Lascaux/ Prehistoric sites
#7 : The Nordic Walk
The Nordic Walk is a different and original way to discover the hidden gems of Dordogne. For those who are not familiar with it, it's a type of power walk using specific sticks to help you. You must have hiking or running low shoes, water and suitable clothes. It's very popular in my region, people usually do it in groups, it's more fun and you can learn about our culture with the locals! It's interesting because you have different levels and different tracks and a guide.
If you're interested you can check the plannings on this site : Nordic Walk in Dordogne
#8 : Canoe tripping
It's THE top activity in Dordogne during summer! You can start in every village along the river and embark for a 7/ 14/ 28 km trip with a canoe or a kayak. It's accessible for families with children as long as they are able to swim. Sometimes you can rent the boat at sunset and discover a totally different river!
My personal advice : start around 10am, after two hours of trip, have picnic along the river and swim! Then arrive at destination around 4 o'clock. And don't forget to have fun on the way!
To know more : Canoe booking
#9 : Hot-air ballon and barge trip
Hot-air ballon is a pretty expensive activity (around €200 per person) but for those of you who can afford it, it's an amazing experience. It's a different way to see the main villages such as Beynac, Castelnaud and their castles, La Roque Gageac and les Milandes (Josephine Baker's castle), and many more. The typical flight is about 1 hour, but you can also fly for 2 hours.
To know more : Hot-air ballon
After flying over the Dordogne region, you can admire it from the river. Take a barge trip from Beynac or La Roque for instance, and discover during a 50 minutes guided tour the villages from another angle. Barges are very slow boats and it's less painful for your wallet! For only €8, enjoy a peaceful time floating along the river.
To know more : Barge
My personal advice : whatever you choose, make the most of it!
#10 : The markets
To complete the very personal list, I think you can't leave the region without going to the market. Whether it's on a Sunday morning, or in the middle of the week, you have to feel the atmosphere of a local market. All the smells will make your day! Indulge yourself by trying one of the local duck product and, of course, delicious cheese! It's one of my favorite places to be on a Sunday morning (after my bed of course!), it reminds me of when my grand-parents were taking me as a kid!
To know more : List of the markets in Dordogne